Such fuses are made of ceramic material and are divided into fast-acting and time-lag by blowing speed, and further are divided into with lead and without lead by structure. The fuses have exquisite appearance and wide application range, and can be applied to various types of household appliances, power supply, instrumentation, industrial control, etc. The fuses obtained certification UL, UR and CSA. Generally, the interrupting capacity of such ceramic fuses is higher than that of glass tube type.
Application: Lightning Protection Equipment, Power Supply, Power Tool, etc.
Packaging Unit: 100 pcs.
References: corresponding fuse holder BH001-2 BZ001 BH001
corresponding fuse clip JZ-012 JZ-005
Dimension: unit in mm
326 series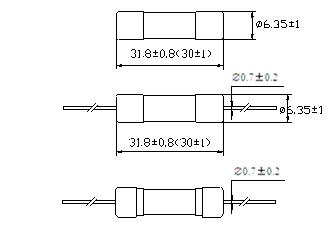 Electrical characteristics
Model

Rated current

(A)

Rated voltage

(V)

326

1A

125/250

326

1.5A

125/250

326

2A

125/250

326

2.5A

125/250

326

3A

125/250

326

3.5A

125/250

326

4A

125/250

326

5A

125/250

326

6A

125/250

326

7A

125/250

326

8A

125/250

326

10A

125/250

326

12A

125/250

326

13A

125/250

326015

15A

125/250

326

20A

125/250

326

20A

125/250

326

25A

125/250

326

30A

125/250
Current characteristics
Rated

Blowing time

Quick-acting

Time-lag

100%

4 hour Min

135%

1 hour Max

200%

5sec Max

120sec Max
Rated breaking capacity
10,000 amperes at 125Vac(1A~20A)
35 amperes at 250Vac/1A
100 amperes at 250Vac(1.1~3.5A)
200 amperes at 250Vac(3.6~10A)
750 amperes at 250Vac(10.1~15A)
400 amperes at 250Vac(21~30A)
Certification
| | | | |
| --- | --- | --- | --- |
| Model | Certification | Certification number | Current range |
| 326 | UL | JDYX.E171685 | 1A-15A |
| 326 | CSA | JDYX7.E171685 | 1A-15A |
| 326 | UR | JDYX2.E171685 | 20A-25A |
| 326 | CSA | JDYX8.E171685 | 20A-25A |
Current-time curve
PRODUCTOS POR GRUPO : Fusible de cartucho > Fusibles de cerámica